The Fultons: A Legacy of Giving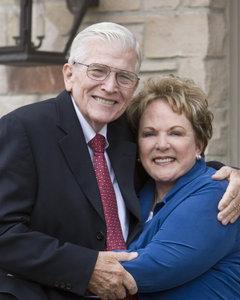 On November 6, 2003 the Brigham Young University College of Engineering and Technology was renamed in honor of church member and generous philanthropist Ira A. Fulton. Ira and his wife, Mary Lou, are longtime friends of the university and have established a generous legacy of giving.
The Fultons began their relationship with BYU in 1999 after visiting campus and feeling a kinship with faculty, administration and students.
They see their contributions not as donations, but as an investment in the future.
"Mary Lou and I love education and the students at BYU," Ira has said. "You never know what kind of impact a good education will have on someone's life. The positive effects can go on for generations."
To date, they have made contributions of impact campus wide, helping students in every college, including those in the Ira A. Fulton College of Engineering and Technology. From 1999-2006 the Fultons contributed more than $10M to purchase and upgrade one of the fastest supercomputers in American higher education at that time (named in honor of Mary Lou), which is still available to students all across campus. The Fultons have also helped to fund dozens of other projects campus wide, including the engineering and technology college's "Streamliner", the Joseph F. Smith Building, Athletic Complex, Hinckley Alumni & Visitors Center, and financing many student scholarships and mentored student learning research projects. The Fultons have regularly upgraded the BYU Center for Animation's computing resources to rival the finest computing facilities of their type anywhere in the world, helping that program become one of the best in the nation.
Mary Lou Fulton passed away on Oct. 1, 2015. She and Ira had been married for 61 years. Side by side with her sweetheart, she impacted thousands of lives through her generosity and caring.
An Arizona-native, Ira continues as the chairman of the board of Fulton Homes and resides in Chandler, Arizona. He also serves on the executive committee and as a member of the BYU President's Leadership Council, a group of top-level donors who encourage and facilitate giving to BYU.